Detroit Scots' Cultural Life
Because of the COVID-19 pandemic, our 2020 Annual Highland Games as you know them were cancelled. As you have probably guessed, we could not let the 171st occurrence of our Annual Highland Games go by without some heroic effort to continue our streak since 1849! So, we had a St. Andrew's Society of Detroit Members-only picnic with Dancing, Piping, and Heavy Athletics, along with camaraderie, Scottish history, foods, and entertainment.
We are Scottish after all!
Since 1849, The St. Andrew's Society of Detroit has been hosting the longest continuous Scottish Highland Games in North America.  Our games are held annually on the first Saturday in August, with a traditional Ceilidh on Friday evening beforehand which is followed by a full day of Scottish activities and entertainment on Saturday.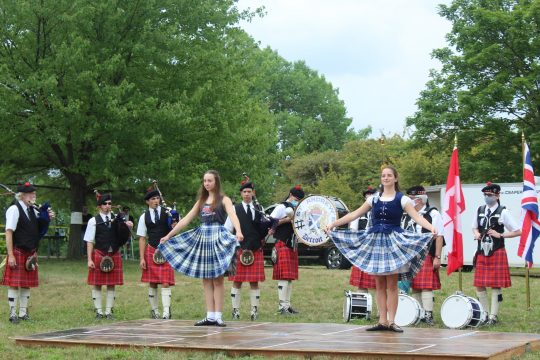 For our 2020 Highland Games, we held a Highland Games Picnic on Saturday, August 1st.
Our 172nd Highland Games will be held Friday and Saturday, August 6th and 7th, 2021.
St. Andrew's Society of Detroit is proud to sponsor the St. Andrew's Pipe Band.  For more information about the Band or to purchase one of their CDs, click on the button below.
St. Andrew's Day Tartan Ball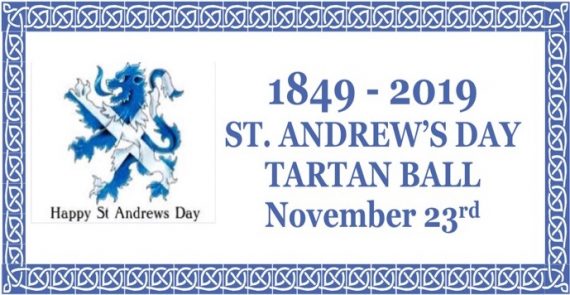 St. Andrew's is the Patron Saint of Scotland. The St. Andrew's Society of Detroit annually holds a Tartan Ball to celebrate St. Andrew's Day, which occurs on November 30th each year.  We dress up in our finest and have a wonderful evening of dining, dancing, and entertainment.
Our last St. Andrew's Tartan Ball was held on Saturday, November 23, 2019.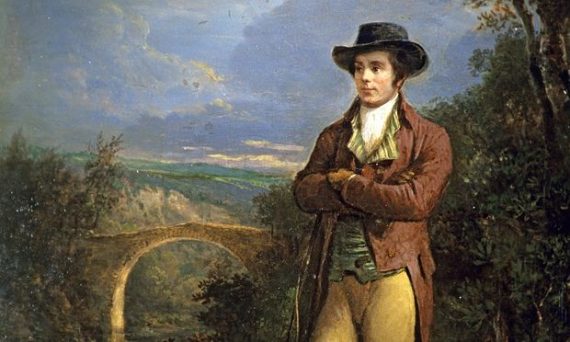 On Saturday, 26, 2019, a spectacular evening celebrating the life and times of Robert Burns, the national poet of Scotland, was held at the Kilgour Scottish Centre.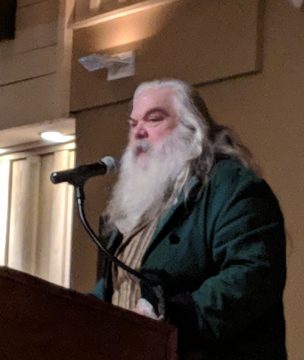 Well over a hundred well dressed and kilted folks enjoyed an evening of poetry, stories, vocal music, bagpipes, folk music, jokes, and comradery.
Guests were greeted by a warm welcome along with a special beverage.  Each table setting included three wee-drams of special, aged Scotches: a 12-year-old Mortlach, a 13-year-old Craigellachie, and a 16-year-old Aberfeldy!
And food!  Scotch eggs with special slaw and spicy mustard, scones, haggis, salmon, breaded cod, as well as bangers and mash, along with an incredible chocolate pudding/brownie!
Our fabulous bard, Elliot MacFarlane, hosted the event with a plethora of information about Robert Burns, humor, and facts about Scotland.  A special feature of the night was learning how much we didn't know about Scottish Cattle!
One of the evening's highlights was the unveiling of the fully restored Robert Hopkin's painting of Robert Burns. This treasure was saved from the St. Andrew's Hall in Detroit. Bob Giles, among others, has been the champion of this project, working with Chuck Forbes to fund, restore, and deliver this historic piece of art history. This immense painting has finally found a home and a place for people to appreciate it.
Great time had by all!
Our most recent Robert Burns Dinner was held Saturday, January 25, 2020, at the Portofino Restaurant in Wyandotte, Michigan.
Special Events and Performances
Occasionally the St. Andrew's Society of Detroit holds special acting, musical, and other social gatherings open to the public.
 "Lasses, O" was performed at the Kilgour Scottish Centre on Friday, Saturday, and Sunday, January 17-19, 2020.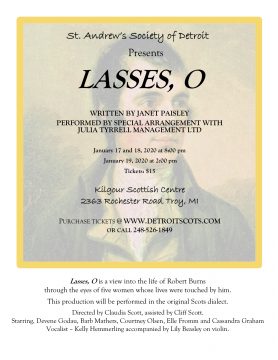 Scottish North American Leadership Conferences
2020 Scottish North American Leadership Conference


CHANGED DATES!!!


December 4th, 5th, 6th, 2020 – New York City
Theme for 2020:  Enduring Bond of Scottish / North American Friendship

The last conference was held in Troy, Michigan, October 4 – 6, 2019


Our most recent Genealogy event was held at the Kilgour Scottish Centre on Saturday, May 4, 2019.  This seminar was lead by Mr. Derek J. Blount, who has been researching his family tree for over 30 years. His genealogy research can now trace his family back before the Norman Conquest (1066 A.D.). He has extensive experience with a multitude of ancestry sites and historical websites and has traveled extensively around the U.S., Canada, and England in search of ancestors. He lectures regionally and nationally on various genealogical topics. He is also a researcher for the Burton Historical Collection in Detroit.
Lenten Friday Fish Fry Dinners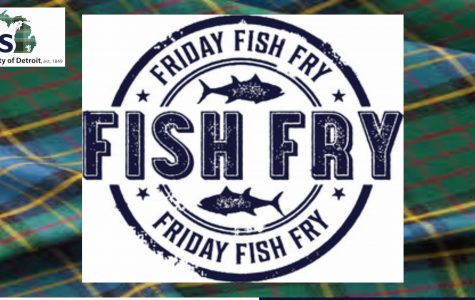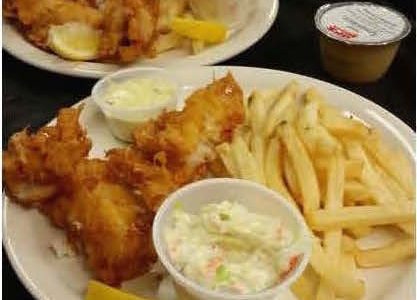 The St. Andrew's Society's Fish Frys start the first Friday after Ash Wednesday each year
.
Our Tartan Day for 2020 and the General Membership Meeting planned for April 6, was canceled.
Tartan Day is a celebration of Scottish heritage on April 6th, the date on which the Declaration of Arbroath was signed in 1320.  It originated in Canada in the mid-1980s.  It spread to other communities of the Scottish diaspora in the 1990s.

Our last Tartan Day Cèilidh was Saturday, April 6, 2019, at the Kilgour Scottish Centre with special guests CrossBow!
Two or three times a year, our Single Maltarian, Certified Whisky Ambassador, and Bard of the St. Andrew's Society of Detroit, Elliot MacFarlane, will host a Whisky Tasting at the Kilgour Scottish Centre.
Unfortunately, our Whisky Tasting, originally planned for Saturday, May 9, 2020, was canceled.