2022 Scottish North American
Community Conference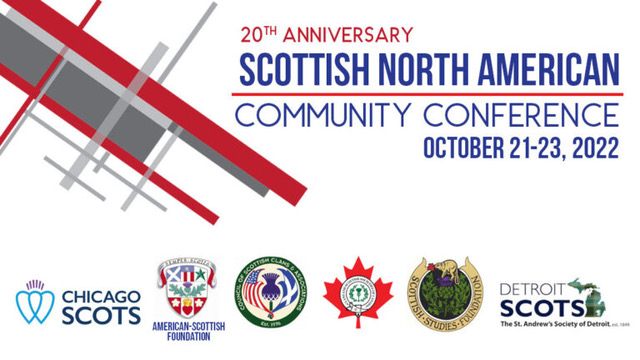 The Scottish North American Community Conference will return on October 21st thru October 23rd, 2022.  The Conference will be available online; and for those wishing to attend in person, events will be hosted by the American Scottish Foundation in New York City.
The theme for SNACC 2022 is: "How do We in North America Express Our Scottishness."  The Conference is organized by a coalition of Scottish heritage organizations which include:
The American Scottish Foundation
The Chicago Scots
Clans and Scottish Societies of Canada
Council of Scottish Clans and Associations|
The Detroit Scots
The Scottish Studies Foundation
University of Guelph
The Keynote Speaker for this year's conference is Professor Emeritus Sir Thomas Martine Devine— Kt, OBE, BA, PhD, DLitt, HonD Univ (Strathclyde, 2006), Hon DLitt (Queen's, Belfast, 2001), Hon DLitt (Abertay, Dundee, 2001), FRHistS, FSAScot, FRSE, Hon MRIA, FBA.
Tom Devine, is the Sir William Fraser Professor Emeritus of Scottish History and Palaeography at the University of Edinburgh, the world's oldest and most prestigious chair in the field. Before then he was Glucksman Research Professor of Irish and Scottish Studies at Aberdeen and Professor of Scottish History at Strathclyde, where he also became Deputy Principal in the 1990s.
He is the author or editor of over forty books, several of which have become international bestsellers, and around 100 articles in academic journals and book collections. His most renowned work is The Scotland Trilogy, an epic three-volume series of over 1600 pages in total, published by Penguin Random House, on the history of the Scottish people at home and across the world since the sixteenth century.
The Times noted in 2013 that 'Tom Devine is as close to a national bard of Scotland as the nation has'. The Scottish Field in 2014 noted that 'Sir Tom Devine is the rock star of Caledonian historians whose work in unraveling Scottish identity makes him de facto the father of the nation.' The Financial Times concluded in 2021 that Devine is 'Scotland's most distinguished historian since Thomas Carlyle (1795-1881)'.
Conference Panels will include discussions on Clan and Family Societies, Communications Within Scottish North America, Highland Games, The Robert Burns World Federation, St. Andrew's Societies, Burns Dinners, Tartan Week, Expressions In Tartan Fashion, and Scottish Events in North American 2023.
In as much as planning for the Conference continues, you can get updates by periodically visiting the SNACC 2022 website at:
https://scottishleadershipconference.com/