Our 2019-2020 Benevolences
The St. Andrew's Society of Detroit is committed to providing assistance to those in need. The following is a list of educational and humanitarian organizations that the Society supports.  This year we allow each member to match up to $100 in personal donations to charities on the list through the Burt Middlemas Matching Fund.  Personal checks made out to the charity plus a stamped envelope addressed to the charity should be sent to Ann Campbell, St. Andrew's Society of Detroit, 2363 Rochester Rd., Troy, MI. 48083
Alma College – Highland Arts Scholarships
Auchindrain Trust
Baldwin Center
Burt Middlemas Matching Fund
Capuchin Kitchen
Cathedral of St. Paul of Detroit
Charles S. Low Memorial Library-Kilgour Centre
Children's Hospital – Shower of Love
C.O.T.S.
DPS Volunteer Reading Corps
Easterseals Dreams Unlimited Clubhouse
Erskine Hospital – Scotland Veterans Charity
Focus HOPE
Forgotten Harvest
Fort Street Presbyterian – Open Door
Friends/Detroit Library-Burton Collection
Gaelic College Celtic Arts & Crafts (Nova Scotia)
Gleaners
Grace Centers of Hope
Guardian Angels Medical Service Dogs, Inc.
Habitat for Humanity Detroit
Habitat for Humanity Oakland
Historic Norwegian Historical Society Calumet
Hope for HIE (Hypoxic, Ischemic, Encephalopathy
Maggie's Centres – Scotland Cancer Support Center
Michigan Animal Rescue League
McFarlane & Company
MI Freedom Center
National Trust of Scotland (USA)
Operation Never Forgotten
Operation Smile
Penrickton Center for Blind Children
Rebuilding Together – Southeast MI Housing
St. Andrew's Society of Detroit Honor Guard
St. Andrew's Society of Detroit Pipe Band
St. Vincent de Paul
Salvation Army Bed & Bread Club
Scottish Book Trust
Scottish Wildlife Trust
South Oakland Citizens for the Homeless
The Scottish Home (Chicago Scots)
Tobar an Dualchais (Isle of Skye)
Troy Civic Charities
Troy Scholastic Program – Morse School
Trustees Personal Grants to Needy
Toys for Tots
Turning Point-Second Hand Rose
Vietnam Veterans of America-Chapter 154
Walsh College Scholarship
William S. Kincaid Scottish Arts Scholarships
Kincaid Scholarships in the Scottish Arts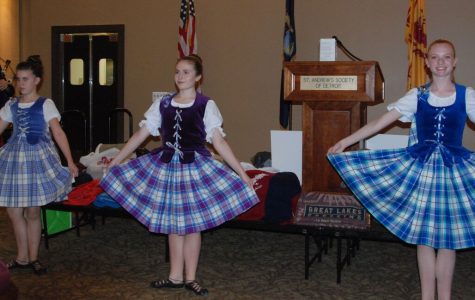 In 2018, we granted 21 scholarships in dancing, piping, and fiddle.  We distributed nearly $11,000.00 for these scholarships, which came from our 2017 Highland Games Raffle Sales which was designated for Scholarships.
The St. Andrew's Society is very proud of its program of scholarships for students studying the Scottish Arts.  We offer scholarship assistance to Highland dancers, pipers, drummers, and fiddlers.  All recipients are recommended by their instructors.  No other program in the country can match our combination of the number of grants, amounts of the grants, and length of time the program has been in effect.
The William H. Kincaid Scottish Arts Scholarship program of the St. Andrew's Society of Detroit provides modest, partial scholarships for beginning pipers, drummers, Highland dancers, harpists (clarsach), fiddlers, pianists, or other appropriate musical instruments to attend a summer Scottish Arts program of their choice in order to further their interest and improve their talent.  Applicants must secure their own admission to the program in which interested and are advised to do this as early as possible in order to maximize the opportunity for admission.
In making these awards, preference will be given to school-age applicants and to first-time applicants of any age.  We request that recipients come to a monthly Membership Meeting of the Society so that the talents of that year's recipients are showcased.  These awards are also available to piping, Highland dancing, and instructors of other appropriate instruments who are seeking to improve their teaching skills; these instructors can nominate themselves.  The award can be used for either a short-term workshop or a summer weeklong program.
Applications are distributed by early April each year to instructors, pipe majors, etc., who participated in the previous year. Those wishing to request materials for the first time are encouraged to do so. Decisions will be made in early May and only those applicants who have secured school admission will be considered. The scholarship will be credited to the student's account at the school attended.
For more information, contact: davemartin@standrewspipeband.com  or  acampbell@detroitscots.com