2023 Officers – Title

Name / E-mail

President

Chris MacKenzie

First Vice-President

Paula Lupi

Second Vice-President

Kelly Hemmerling

Recording Secretary

Louise Giles

Society Treasurer

TBD

Membership Secretary

Julie Bartoy

Communications Director

Shelby Rohr

Cultural Activities Director

Nancy Waters

Society Bard

Elliot MacFarlane

Society Chaplain

Dean Scott Hunter

Society Piper

David Martin

Highland Games Chair

Cathy Hasse

WebMasters

Rod Harris

 

Amy Pennybacker

Doug Reith

 

Shelby Rohr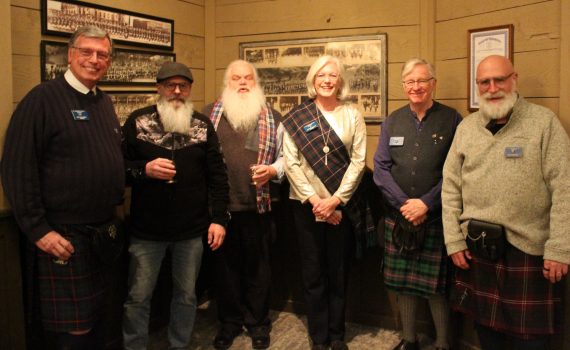 2023 Trustees in Picture (Left to Right) – Kent Richards, Scott David, Elliot MacFarlane,
Lynette McLeod, Tim Reade, Robert Crawford
Not pictured: Jerry Beasley, Beth Frahm, Cliff Les
| | |
| --- | --- |
| 2023 Board of Trustees | Term of Office |
| Kim Martin | 2022 – 2024 |
| Beth Frahm | 2023 – 2025 |
| Clifford Les (Secretary) | 2023 – 2025 |
| Tim Reade | 2023 – 2025 |
| Scott David (Co-Vice Chair) | 2021 – 2023 |
| Robert Crawford | 2021 – 2023 |
| Elliot MacFarlane (Chair) | 2022 – 2024 |
| Lynette MacLeod | 2022 – 2024 |
| Kent Richards (Co-Vice Chair) | 2021 – 2023 |
St. Andrew's Society of Detroit
Kilgour Scottish Centre
2363 Rochester Road
Troy, MI 48083
248-526-1849
For corrections or improvements to the DetroitScots.com Website, an email is required.
Send an email to webmaster@detroitscots.com
All suggestions for improvement / corrections to the website must be in writing via an email.
The Webmasters Team will prioritize all requests and contact you for more information, if necessary.
You will be notified the status of the request once it has been reviewed.